Last week Georgia Congressman John Lewis adopted a tactic from his time as a civil rights leader and staged a sit-in on the floor of the U.S. Capitol to demand a vote on common-sense measures to reduce gun violence.A Congressional parliamentarian said the action had no precedent in recent memory, though it was of a piece with a filibuster Senator Chris Murphy led the week before, and was buoyed by calls and social media posts from tens of thousands of regular citizens.
And while the mass shooting this month in Orlando that killed 49 people and injured more than 50 triggered the outpouring, it was the continuous toll of gun violence all across the nation that the legislators invoked in their calls for change.
The echoes of the civil rights movement were more than appropriate. Reducing America's epidemic of gun violence is a public health struggle to prevent unnecessary injury and death; but it is also a struggle for fairness, because the burden of gun violence disproportionately affects communities of color.
Although African Americans make up only 14 percent of the U.S. population, they account for a majority of gun homicide victims in the U.S. Black women are three times as likely to be murdered with a gun as white women, and black men are nearly ten times as likely to be murdered with a gun as white men.
Indeed, black men age 15 to 34 are more likely to be killed with a gun than to die by any other cause. Violence is the second largest contributor to differences in life expectancy between white and black males; overall, gun homicides reduce the life expectancy of the black male population by nearly a year.
As is often the case when societal ills affect a vulnerable or minority group, federal lawmakers have made little response to this. It took Congress decades to enact the Civil Rights Act of 1964, and our lawmakers are trailing public sentiment when it comes to gun violence prevention bills today.
Indeed, the House has not taken a single gun-related vote since the Sandy Hook shooting, despite widespread, bipartisan support for stronger laws among the general population.
Federal lawmakers seem to thrive on gridlock, but city leaders don't have that luxury. Cities bear the brunt of our country's elevated rate of gun violence: The 25 largest cities contain barely one-tenth of the U.S. population but account for more than one in five Americans murdered with guns.
A mayor who does not prioritize public safety will not hold the job very long.
Fortunately, city and community leaders have proven they are up to the challenge. Across the U.S., they are finding cogent, evidence-based ways to intervene and address gun violence. Even accounting for recent setbacks, over the last ten years nearly 80 percent of the countries' largest cities experienced a significant decline in gun homicides.
In an attempt to catalogue and elevate success stories and lessons learned, earlier this month Everytown partnered with the National Urban League to release a detailed report Strategies for Reducing Gun Violence in American Cities.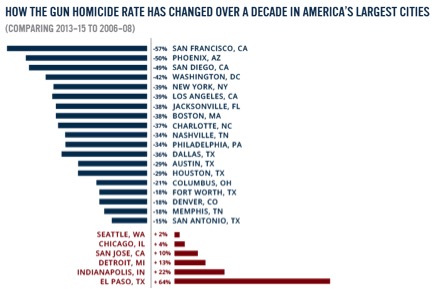 Last weekend we shared it with hundreds of elected leaders at the U.S. Conference of Mayors in Indianapolis.
Congress still plays a role because strong laws matter, and cities depend to a certain degree on the actions of state and federal lawmakers. Prohibiting dangerous people from having guns makes it harder for them to arm themselves, blocking their access to legal sources and increasing costs and risks in the black market.
But guns know no borders. Nationwide, nearly 30 percent of guns recovered from crime scenes were first sold in a different state. So without a stronger threshold established by federal law, cities will remain vulnerable to criminals trafficking guns in from neighboring states with weaker laws.
But despite inaction in Congress and state capitols, cities are acting on their own. In over 30 cities, we documented how they are adopting seven strategies to reduce urban gun violence:
Understanding the specific factors that drive gun violence;
Reducing the supply of illegal guns;
Improving public spaces to make it harder for criminals to stash or use firearms;
Improving investigations of gun crimes and leaving fewer gun crimes unsolved;
Breaking the cycle of violence and retaliation by running programs that focus on the places and people most likely to be affected;
Offering positive alternatives to at-risk individuals before they fall into patterns of violence; and
Ensuring that dangerous domestic abusers do not have illegal access to guns.
The full report includes dozens of tactics cities have employed to pursue these objectives, and the evidence of their impact.
Gun violence is multi-faceted wherever it occurs, and no single intervention is enough to make our cities safe or eliminate gun violence from everyday life. But by acting together, measuring what they do, and learning from their experience, cities can have an impact on gun violence today, even where it feels most intractable.
Bottom line? Those on the frontlines of gun violence continue to innovate and make progress, even as the gun lobby's allies in Congress try to obstruct it.
Ted Alcorn is the Research Director for Everytown For Gun Safety. He previously served as a policy analyst in the Office of the Mayor of New York City. He earned graduate degrees from the Johns Hopkins Bloomberg School of Public Health and their School for Advanced International Studies (SAIS), where he was a Bill & Melinda Gates Foundation Fellow. Follow him at @TedAlcorn.