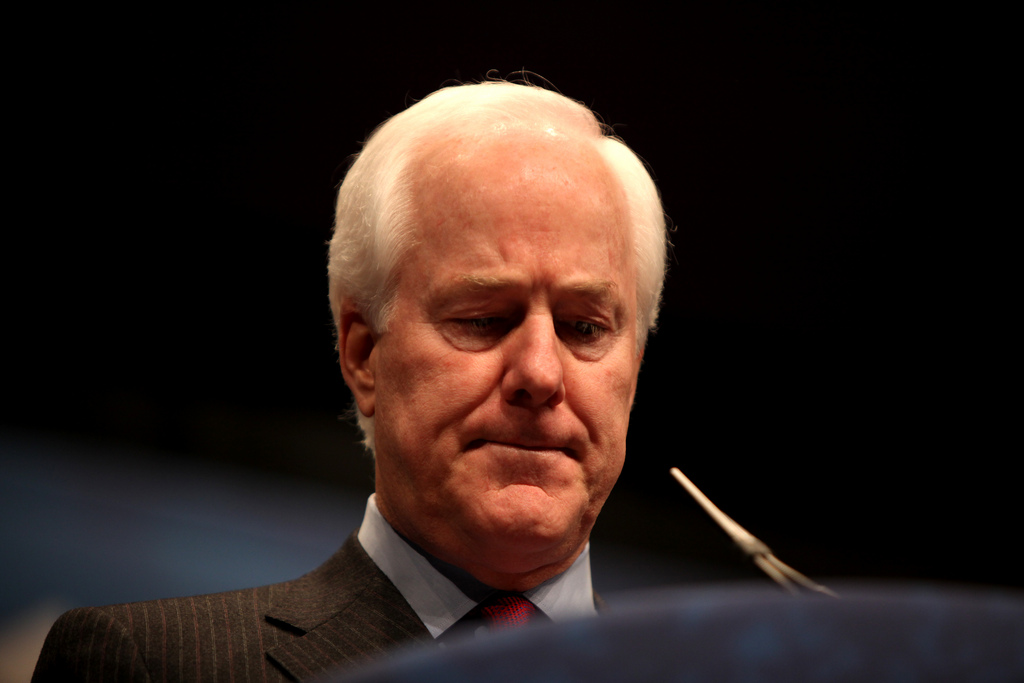 Senator John Cornyn (R-Texas) last fall introduced an amendment that would have reduced financial penalties for states that do not comply with the Prison Rape Elimination Act.
(Photo by Gage Skidmore, via Flickr)
On the eve of the second annual reporting deadline for states to certify compliance with the Prison Rape Elimination Act (PREA), a debate over amending the law has thrown questions about its effectiveness into sharp relief.
Even though Congress passed PREA unanimously 12 years ago, advocates, legislators and governors remain at odds over penalties that should be applied to states that fail to meet standards for compliance set by the federal government or that ignore the May 15 reporting deadline. The advocacy community itself is divided over a proposed amendment that some say will strengthen the law and others claim will eviscerate it.
Meanwhile, alleged sexual assaults on prisoners are on the rise.
The latest bout of wrangling was triggered last fall, when Republican Senator John Cornyn of Texas introduced an amendment that would have reduced the financial penalties for noncompliant states by eliminating a provision that linked funding of state programs under the 1984 Violence Against Women Act (VAWA) to adherence to the PREA guidelines. Although the Senate Judiciary Committee unanimously approved the amendment, which it attached to the Second Chance Act, Congress failed to vote on the bill before its last session ended.
The controversial amendment galvanized renewed opposition by advocates who wanted it buried once and for all on the grounds that its intent was to weaken a law that had received universal support when it was passed in 2003. But it also triggered an effort by another group of advocates and stakeholders to develop a compromise amendment which they claimed would strengthen the original legislation while easing states' concerns.
The group, comprising about 20 stakeholders and advocates led by Elizabeth Pyke of the National Criminal Justice Association and Chris Daley of Just Detention International, argued their compromise amendment would keep intact the financial penalty for noncompliance while restructuring how the penalties were assessed.
The proposal would also beef up the requirements for annual reporting by states, including making more information public; and eliminate by 2018 the option to file an assurance that a state will eventually comply with the standards—at which time all states would be required to be in compliance with PREA.
While the compromise still hasn't satisfied everyone, the backers say they are willing to consider changes that will further the goal everyone shares: achieving full national compliance with PREA.
"For organizations like ours who are continually documenting incidents of prison rape, there is a great sense of urgency—we want PREA implemented yesterday," Daley told The Crime Report.
No Legislative Sponsor
The proposed compromise, however, still has not found a legislative sponsor in the Senate Judiciary Committee. And the position of the original amendment's backer remains unclear.
In an April 29 New York Times letter to the editor, in response to an op-ed article complaining about the slow pace of PREA compliance, Cornyn wrote that while he supported the Act's purpose the intention of his amendment was to protect VAWA grant programs from being unfairly penalized—and he implied that he still wanted to see it enacted.
But in an email to The Crime Report, a Cornyn aide appeared to leave the door open for a compromise.
"Despite Sen. Cornyn's amendment receiving unanimous bipartisan approval in the Judiciary Committee, he remains open to continuing to work towards a solution that further builds consensus and strengthens his amendment," wrote the aide, who requested anonymity because discussions on the bill were still underway.
Pyke and Daley say they are working with Cornyn's office to sponsor their proposed compromise amendment and bring it to the Senate Judiciary Committee. The committee, however, is considering a wide range of legislation under its new Republican leadership, and it's not clear when PREA will come up.
Pyke says it could be weeks or months from now, depending on how quickly senators want to move on it.
Daley, whose Washington, D.C., human rights nonprofit seeks to end sexual abuse in all forms of detention, and was one of the law's original backers a decade ago, said reports that he has received indicate that "states are moving faster on this than almost any other issue, but it can be tough when you don't see as much progress as you'd like."
The Act mandates state governors each year to submit to the U.S. Attorney General by May 15 letters stating either that they are in compliance with PREA standards or proffer an assurance that they are working toward it.
However, as seven states did last year, governors could also refuse altogether to send such letters.
To complicate matters further, knowing where states actually stand on compliance depends upon the Department of Justice (DOJ) releasing that information—and so far the DOJ has not made public any results from mandatory PREA audits that began last year—further clouding any clear picture we might have of PREA implementation.
When PREA was drafted, its intention was to prevent sexual assaults in prisons and jails with a zero-tolerance approach. Regulations established in 2012 required states to make changes in prison infrastructure and staffing to comply with this goal, and to make corrections facilities more accountable through additional reporting requirements and effective remediation of allegations.
The DOJ has disbursed about $35 million in grants since 2011 to help states implement PREA, in addition to funding to establish the National PREA Resource Center.
Last May, the first year that states were required to comply with PREA, two states, New Hampshire and New Jersey, certified to the attorney general that they were in full compliance with all PREA standards. The seven states that refused to comply or send assurance letters were Arizona, Florida, Idaho, Indiana, Nebraska, Texas and Utah. Additionally, 42 governors gave assurances that they were working towards compliance, although no audits of their claims was made.
Five Percent Penalty
Any state found to be in non-compliance is subject to losing five percent of its federal grant funds allocated for corrections programs. In 2014, the DOJ listed three programs that would be subject to cuts: the Bureau of Justice Assistance's Edward Byrne Memorial Justice Assistance Grant Formula Program; the Office of Juvenile Justice and Delinquency Prevention's Juvenile Justice and Delinquency Prevention Act Formula Grant Program; and the Office on Violence Against Women's STOP (Services, Training, Officers and Prosecutors) Violence Against Women Formula Grant Program—the latter of which represents the largest percentage of grant funds among the three programs.
Restructuring financial penalties for noncompliance is one of the key components of the proposed new amendment. Under the proposal, the DOJ would require that states draw an amount equivalent to five percent of their federal prison grant funding from their own corrections budgets and spend it on complying with PREA standards. Only if states failed to allocate that amount for PREA would they lose the federal funds.
"This would allow federal money to continue to be used in the way it was authorized—for crime prevention, court and domestic violence programs—while also making PREA implementation an integral part of a correction department's budget that they must plan for on an annual basis," said Pyke.
Nevertheless, some in the PREA advocate community argue that this would undermine efforts to hold states accountable for sexual abuses in their correctional institutions.
"If the federal government is going to tell states to do something, it has to have federal money attached to it," said Liz Ryan, president and CEO of Youth First Initiative, a juvenile justice nonprofit.
"You can't shift financial penalties to the states—you can't tell states to comply with federal law and ding them with state money. I've never seen that before—it doesn't work that way."
Pat Nolan, a former California state legislator and PREA commissioner, agrees.
"The biggest problem with the proposed amendment is the idea that it would substitute state for federal money," said Nolan. "There are so many ways states could take money supposedly meant for one thing and use it for something else. The
DOJ isn't set up to understand the arcane budget processes of 50 states."
Pyke responds that existing accounting mechanisms, such as those used in federal grant-matching programs, employ the same principles to make sure states are earmarking their own funds appropriately for PREA implementation.
And under the proposed amendment, if they don't do that, "there is a consequence: Their federal grant funds are taken away."
Meanwhile, some critics maintain that the DOJ's failure to enforce existing standards has undermined the intent of the original Act.
Audit Data Missing
Audits in all 50 states of one-third of its corrections facilities began last year; however the Justice Department has not released any data on how many prisons and jails have been audited or those results.
Statistics show that prison rape is still a significant problem—and in fact, could be increasing. In the most recent Bureau of Justice Statistics survey of 10 percent of PREA facilities, 8,763 allegations of sexual assault were reported in 2011. By extrapolation that would suggest more than 87,000 estimated assaults in one year, which is about a 10 percent increase over the number of prison sexual assaults reported in its 2009 survey.
The authors of the new proposal say the urgency of the problem has motivated their efforts to find a compromise that will address the concerns of both sides.
"We're not rigid on the particulars, it's not 'this proposal or nothing,'" said Pyke. "We're trying to reach common ground with the states, advocates and law enforcement to get to a win-win for everyone."
Some corrections officials also favor the compromise amendment.
"States are already spending their own dollars to come into compliance," said Rob Coupe, commissioner for the Delaware Department of Correction and chair of the Association of State Correctional Administrators' PREA Committee, who supports the amendment.
"Now they'll have to drill down on their accounting and make sure they keep good records to show how they are spending their money to come into compliance"—for example, he said, buying cameras for blind spots in a facility, increasing staff or making technical upgrades.
What many advocates do agree on is that VAWA money shouldn't be tied to PREA noncompliance. The legislation only specified that penalties for noncompliance should come out of prison-related federal grant funds; the subsequently published regulations allowed the DOJ to decide which grants would be affected.
"I have never understood why the Justice Department decided VAWA money should be subject to the PREA penalty," said Ryan. "It doesn't make sense."
"Why would the DOJ cut VAWA funds for PREA when it has nothing to do with prisons?" Nolan asked. "The DOJ has never explained that decision or what other grant funds would have been eligible. They're not transparent—they never said who made that decision, when, or what their options were."
But Nolan also noted that new legislation wasn't necessary to ensure that VAWA grant programs were placed off-limits: it could be written into the regulations.
Pyke agrees that the regulation could clear up the problem, but adds: "We think it's unlikely that the DOJ would come to the decision on their own."
The proposed amendment would allow VAWA monies to be included for the purposes of calculating penalties, but would specifically exclude its programs from any cuts.
Threat of Lawsuits
While the financial penalties are a sticking point for PREA advocates to ensure compliance, a more convincing monetary incentive is now also in play: possible lawsuits.
"Now that PREA's national standards are established, facilities that do not comply could open themselves up to potential lawsuits—and that could be a much more compelling reason (for compliance) than the fines," Pyke noted.
The proposed amendment also aims to add more transparency about where states stand on compliance. Instead of simply signing an assurance letter stating an intention to comply, states would be required to submit a report detailing which facilities have been audited, any challenges they experienced, and what they plan to do to overcome those challenges.
The DOJ is "already starting to take states down that path," said Coupe, noting that the Justice Department is asking states for more information than it did last year, such as providing the number of facilities it has, how many institutions have been audited, and projections for compliance.
Although some state governors have made headlines for their refusal to comply with PREA standards, most notably former Texas governor Rick Perry last year, corrections facility leaders—even in those states—are working to come into compliance, according to Coupe.
During a PREA panel at the Association of State Correctional Administrators' most recent conference earlier this year, Coupe noted that facility "directors are very motivated to come into compliance—everyone is taking it very seriously."
"In law enforcement and corrections, when we're told to meet a standard, our goal is to meet that standard," said Coupe. "Corrections leaders want to be successful with PREA. Even the states on the initial list of those who chose not to file an assurance are conducting audits."
However, Nolan said anecdotal information suggests some prisons in Texas are simply not interested in complying with PREA.
"Wardens have complete authority over their prisons, they call the shots," said Nolan. "From prison to prison, one could be doing a good job, and 40 miles away another prison could be doing a terrible job—it all depends on the warden."
Without any hard data from the DOJ to confirm where states stand, it's difficult to know what's really going on in the field. For small states or those with unified correctional systems, making sure all prisons are coming into compliance is likely less complicated than it is for those with non-unified systems or for larger states, Coupe said.
Cornyn's letter claimed that "recent Justice Department data indicate that audits of prisons are underway or completed in almost 550 facilities, including at least 24 in my home state of Texas."
However, the DOJ would not confirm that this information was accurate.
Ultimately, all sides in the debate agree that only a cultural shift in corrections facilities' attitudes toward sexual assault in prisons will produce meaningful change.
"One of the first things I noticed is that corrections officers started calling sexual assaults 'PREA incidents,'" Coupe said. "People are taking it very seriously. Over the last two years, implementing PREA has become part of the corrections culture."
Coupe says a similar evolution of attitudes occurred in law enforcement's response to domestic violence.
"As you raise awareness and educate the community, such incidents are given better attention," Coupe said. "It could also lead to law enforcement receiving more incident calls but that usually means there will be better reporting and documentation of these incidents."
He thinks PREA will follow the same pattern and notes that the impact will not just be on corrections officers but prisoners as well.
"Inmates will know that if this happens to them and they come forward, it will be taken seriously and receive the proper attention—and they don't have to be afraid of retaliation," Coupe notes. "The environment will be better and safer for everyone."
"There is a sexual assault crisis in detention facilities around the country and there is an urgent need to end such abuses," Daley said. "PREA represents the best tools we've ever had to end this abuse."
Deirdre Bannon is a journalist based in Washington, D.C. She welcomes readers' comments.