On January 8th in a 157-page opinion, Federal District Court Judge Shira Scheindlin ruled against the New York City Police Department (NYPD) in one of three pending cases challenging the NYPD's use of Stop, Question and Frisk as a primary crime-fighting tool.
Schiendlin found, in Ligon v the City of New York, that the NYPD has engaged in a pattern and practice of illegally stopping innocent people outside of buildings enrolled in the Trespass Affidavit Program (TAP), also known as the "Clean Halls" program; that those stopped were predominantly innocent Black or Latino residents of the buildings or their guests; and that the police department's failure to respond to complaints about the practice amounts to "deliberate indifference" —all warranting her decision to call for an immediate end to the behavior as currently practiced.
Although the Ligon decision only mandates that the NYPD stop its current practice of stop and frisk outside certain private buildings in the Bronx, the judge's decision about the illegality of the police behavior in Ligon seems to foreshadow her decisions in the two cases that are pending.
The "house of cards" built up for over a decade by the NYPD in defense of its Stop, Question and Frisk (SQF) policies may now be crumbling.
The department has claimed that SQF is responsible for New York City's "historic" crime decline, crediting the practice with keeping crime rates low over an extended period of time, roughly the past ten years.
But as early as 1999, there were complaints that the practice amounted to racial profiling.
That year, then-Attorney General Elliott Spitzer issued an extensive report finding that there was evidence that racial profiling by the police department did exist.
In April 2000, shortly before his 2001 reappointment as NYPD Commissioner, Kelly himself raised doubts about Stop and Frisk in an interview with The New York Times.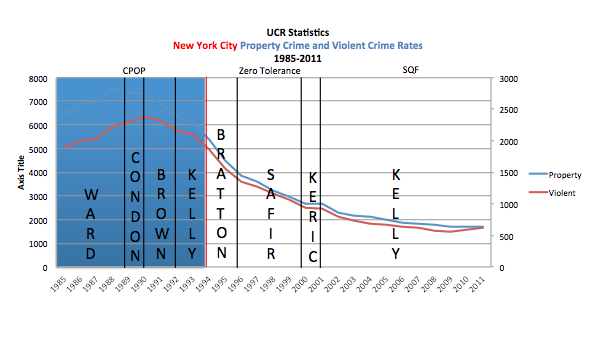 Crime was already on the decline in 1994, when Rudolph Giuliani become mayor and abruptly changed policing strategies to a philosophy of zero tolerance, broken windows, quality of life, and order maintenance.
"A large reservoir of good will was under construction when I left the Department in 1994—it was called community policing," he said. "But it was quickly abandoned for tough-sounding rhetoric and dubious stop-and-frisk tactics that sowed new seeds of community mistrust."
Despite these words, from 2002 to the end of 2011, there was a 600 percent increase in the documented use of SQF, from roughly 97,000 for year end 2002, to more than 685,000 by year end 2011.
These numbers come from the department's own statistics which were mandated to be made public by a lawsuit, Daniels v. the City of New York, settled in 2003. That suit alleged that there was racial and ethnic discrimination in who was being stopped by the police in New York City.
The statistics revealed that Blacks and Latinos made up more than 80 percent of civilians who were stopped—though, combined, they made up roughly 50 percent of the City's population.
The statistics also revealed that among all stops, roughly 10 percent resulted in an arrest or summons; while in nearly 90 percent of stops, no criminal activity was found.
In 2008, the Center for Constitutional Rights, the organization that filed the Daniels lawsuit, again filed suit against the NYPD, alleging that it continued to use SQF in a way that was racially discriminatory, through targeting innocent African American and Latino pedestrians as they went about their normal lives on the City's public streets.
The suit, which was certified as a class action by Judge Scheindlin on May 16, 2012, is scheduled for trial on March 11, 2013
Like the Ligon case decided last week, another case, Davis v. the City of New York, is a suit involving residents and their guests.
However, in the Davis case, instead of private buildings, the plaintiffs say that they have been illegally, stopped, questioned and sometimes arrested or issued a summons for trespass while they were on property belonging to the New York City Housing Authority (NYCHA).
All three of these cases involve allegations that the police department has illegally used its powers of stop and frisk. All three raise questions of racial and ethnic discrimination.
All three are before Judge Scheindlin.
In the Floyd case, the plaintiffs have recently waived their rights to a jury trial, which means that the judge will decide both the factual and legal issues in the case. They have also waived monetary damages—which means that, similar to Ligon, they primarily want the judge to determine the legality of the police conduct.
The precincts with the most stops are heavily populated by racial and ethnic minorities.
Because the evidence she considered in reaching her decision included current NYPD training materials, which she found contained constitutionally inaccurate information, it seems highly likely that Judge Scheindlin will find that that faulty training has affected stop and frisk practices throughout the City.
The evidence also included testimony from a Bronx, NY district attorney which documented the high number of invalid trespass charges coming into the Bronx County District Attorney's Office.
This evidence significantly supported the testimony of the plaintiffs, many of whom were mothers who sued on behalf of their minor children (mostly sons) who were stopped entering or leaving Clean Halls buildings.
Having found the department-wide training faulty, it is unlikely that the judge won't find fault with the stop and frisk practices in the remaining high-stop neighborhoods, several of which are precincts in Brooklyn where the residents are largely Black, Latino and low-income.
Delores Jones-Brown, J.D., PH.D., is a Professor in the Department of Law, Police Science and Criminal Justice Administration at John Jay College and is founding director of the Center on Race, Crime and Justice. She is also a former New Jersey prosecutor. She welcomes comments from readers.