Drugs. Race. Politics. For years they have shaped, and often skewed the criminal justice system–and continue to do so today.
This morning is the start 7th Annual John Jay College/Guggenheim Symposium on Crime in America, put on by the Center on Media, Crime and Justice. Over the course of two days, panelists from worlds as diverse as law enforcement, advocacy, academia and government will gather to talk about "The Problem That Won't Go Away: How Drugs, Race and Politics Distort U.S. Criminal Justice."
We'll be live-blogging throughout.
8:45 am–CMCJ Director Stephen Handelman and John Jay President Jeremy Travis kicked off the morning with initial remarks. Travis noted that much of the reforms and innovation in criminal justice today are happening at the governor's level, a fitting introduction for the symposium's keynote speaker, Conn. Gov. Dannel Malloy.
8:52 am–Keynote: Conn. Gov. Dannel Malloy
As a Brooklyn prosecutor in the 1980s, criminal justice policy was not evenly applied, he said."We didn't have much a policy in criminal justice except largely to protect a white population."
Since entering office in 2010, Malloy said he has been trying to tackle the blowback of that kind of enforcement that linger today.
The numbers tell part of that story. Connecticut's prison population grew to 20,000 in 2008 from 8,000 in 1986. More than 75 percent of that population was black or Latino. Much of that comes from a revolving door in the prison system–parole violations make up a huge percentage of the incarcerated population, he said.
To tackle that, Malloy pushed successfully for the decriminalization of small amounts of marijuana, and is working to improve support services as well as education and housing policy in his state. That extends to his consideration for six judicial appointments. He wants more women and minorities on the bench, he said. In his conversations, he said he has told prospective candidates, "Be an advocate, at least in the back of your mind, for making sure that justice is done."
9:40–Panel 1: America's Addictions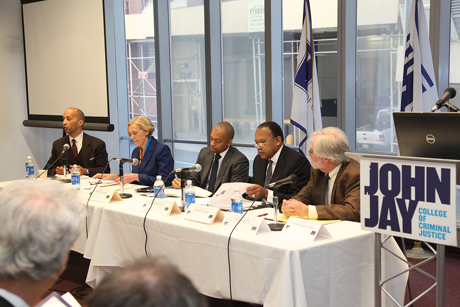 Panelists, from left to right: Bridget Brennan, Special Narcotics Prosecutor NYC, Dr. Khalil Muhammad, Schomburg Center for Research in Black Culture, Benjamin Tucker, deputy director of the White House Office on National Drug Control Policy; and William Burrell, Journal of American Probation and Parole Association. Moderated by Byron Pitts, CBS 60 Minutes.
NYC Prosecutor Brennan talked about the newest issue facing her office: prescription drugs. It has become a major cause for concern, on par with heroin and crack. This addiction tends to be "more prevalent "among the middle class and white" populations, she said. Deputy Director Tucker later added that trafficking in prescription drugs has now become second only to marijuana in this country.
For years, drug enforcement targeted primarily communities poor and of color, particularly during the crack epidemic of the 1980s. Dr. Muhammad highlighted connections he said should not be overlooked between racism and drug enforcement over the past several decades, which he pointed to as a key cause of racial disparities in incarceration rates.
Blogger's note: For more on race and the War on Drugs, see TCR's conversation with Michelle Alexander, author of The New Jim Crow.
Tucker discussed some approaches the administration is taking to tackle a system that must be changed. He described the administration as "one that sees addiction as a disease, and one that sees the criminal justice system as one that can be improved." Tucker talked not only about alternative drug courts and President Obama's signing of the Fair Sentencing Act, but also more small scale efforts his office has its eye on: Hawaii's HOPE program, community supervision and others.
Burrell went a step further. He described how "using the criminal justice system as our primary tool [for tackling drug use and addiction] has left us with another addiction." That new addiction? Incarceration itself.
11:17–Panel 2: Gangs, Drugs and Urban Violence: Can the Connections Be Broken?
Panelists from left to right: Donyee Bradley, a gang outreach worker in Washington D.C.; Charlie Beck, LAPD chief; Connie Rice, co-director of the Advancement Project; and Risco Mention-Lewis of the Nassau County DA. Moderated by Jeff Butts, director of John Jay's Center on Research and Evaluation.
The title of this panel implies stasis, but from the moment moderator Jeff Butts started, the talk has been of change.
Butts put up charts based on the most recent FBI data. Violent crime arrests are at a 30 year low. But "as violence has dropped," Butts said, "arrests for other crimes has increased since the 1990s."
"Minor assault arrests are way up," he added. "Disorderly conduct is up. Drug possession arrests are way up since the 1990s." Chart those arrests for people under 18, and the spikes are even steeper. Butts didn't look to explain why, but to highlight the numbers. It didn't look like an accident, or a trend, he said. "It looks like a policy change."
A notably compelling speakers they talked about the way the gang world has shifted, and the evolving efforts to tackle gang violence.
Bradley opened the panel. Raised on the streets of DC, he now works with youth on those same streets.
"DC's murder rate is the lowest it's been in 50 years," he said, "which makes me want to celebrate." But along with the drop in violence, "gangs have changed in DC," Bradley said. Gangs are smaller and more intricate. Turf battles involve not two but maybe three or more groups.
Chief Beck echoed this in his observations about the long-running gang problem in Los Angeles. It's not about a monolithic, drug-running gang. Out of 160 gang killings in 2011, Beck said, less than 10 percent had to do with drugs. Killings are about territory, respect, women. There are cross-gang killings and inter-gang killings. There are no easy answers.
There are, however, foundational elements needed to tackle the problem. Beck pointed out four:
Prevention programs to keep kids out of gangs
Interventions to disrupt violence
Enforcement that looks not only at arrest and gun numbers, but broadly at reductions in violence as benchmarks
Re-entry to keep people emerging from that life out
According to Rice, LA's recent approach is the most innovative in the nation. "It is the only really serious community policing operation that I see in the country," said Rice. Mention-Lewis begged to differ–she highlighted the success of John Jay's David Kennedy's programs–but the two saw eye to eye on a number of issues.
Tackling gang issues is not about widespread, blanket low-level enforcement, they said. It's about rethinking the relationship between the police and the community. It's about offering avenues to get out of the street life–avenues other than being locked up.
2:07 pm–Panel 3: Crime and Criminal Justice Trends 2011-2012
Blogger's note: Coverage of this panel ran a bit long, but the speakers offered myriad story ideas. Take note.
Panelists from left: Al Blumstein, Carnegie Mellon University; Philip J. Cook, Professor of Economics at Duke University; Michael Males, Center on Juvenile and Criminal Justice; William Black, Professor of Economics and Law at the University of Missouri-Kansas City. Moderated by CMCJ Director Stephen Handelman.
Blumstein started off the panel with a powerpoint presentation. "I want to look at murder and robbery, which are my two favorite crimes," said Blumstein. He likes them because we care about them, and because they are serious, well defined and well measured.
The crimes tend to track each other. One crime peak in 1980 was an outgrowth of the post-war baby boom, he said, followed by a trough as the boomers grew up.
"When you lock up the rapist, he takes his crime off the street," Blumstein said. When you lock up the drug seller, by contrast, someone takes his place. Those taking the place of the incarcerated in the 80s and early 90s were kids, and kids carried guns for protection. Then the guns spread. Hence the crime peak in the early 1990s. The police got very aggressive, and we saw a "disarmament process," as Blumstein describes it.
Crime fell markedly, then flattened out between 2000 and 2009. That year, it significantly dropped again, which "generated widespread surprise" particularly because it came in the midst of a recession.
Is this a new trend, or just a blip? That's the question Blumstein is trying to answer. He said he'd take "a stab."
The change in arrest rates for robbery and murder was recently consistently higher for black people than for white–the spread is 5 percent or more in 2009.
Blumstein speculated as to why: An increasingly anti-police culture in black neighborhoods that might make arrests harder, growing pressure against discrimination or an "Obama effect" when perhaps there was hope in poor and minority neighborhoods follow the election of the nation's first black president. Discuss.
Mike Males came up next. He said everything we think about crime is wrong, and planned to prove it in the next 15 minutes.
We tend to wed youth and crime. But Male says, "middle agers are just as crime prone as teenagers," and that's the most important crime trend of recent years. As to the common statement that criminals are getting younger and younger, Male said, "That's just crap."
The juvenile violent crime rate has dropped to 223 per 100,000 in 2010 from 307 per in 1976. In those same years, violent crime by the 40-aged population rose to 176 per 100,000 from about 135 per. "This is startling," he said. "But middle aged crime is largely invisible."
This has led to a ballooning older prison population, which is extremely costly. A lot of this growth has been attributed to sentencing laws, but in fact, Male said, it has more to do with older people committing crimes, and entering incarceration's revolving door.
Need another story idea? Male said major factors for the middle-aged crime increase are (1) skyrocketing drug abuse in an older population and the failure of drug control policies (2) enforcement of domestic violence laws in a boomer generation riddled with generational drug and crime problems.
Cook looked at how what he called "crime opportunities" have changed. Over the past 30 years, there has been a huge increase of money spent on all facets of crime control. In that same time, private efforts to stop crime have shot up too. Private security has increased exponentially. Technology has changed law enforcement, and security–it's a whole lot harder to steal a car than it used to be. Another change? We don't use much cash these days. That means less payoff in most street robberies.
Cook argues we should pay more attention to these "private actions" when we talk about crime rates–and we should harness this trend, incentivizing people to leverage private actions.
Editor's Note: For more on Cook's research, take a look at his recent piece on The Crime Report.
Lastly, we turned to white collar crime. The title of Black's presentation: "Elite White Collar Criminals Get Rich by Blowing Up Economy: No News at 11 & No Prosecution."
"There are no cops on the beat with regard to white collar criminals," said Black. Yes, the FBI has about 3,000 people on white collar crime, Black said. That's about one per industry. The only people who can serve as the analog of cops on the beat are the regulators, said Black, who worked as a regulator in the 90s following the Savings and Loan crisis. They made 30,000 referrals from the Office of Thrift Supervision. During this crisis, the same office made none. The system, Black said, just flopped.
Blogger's note: For easy-listening coverage on this, check out the 2009 This American Life episode, "The Watchmen."
Looking at our most current financial disaster, it all came about because of "liar's loans" (which later became packaged into credit default swaps, or CDOs, one of the key acronyms of the mortgage crisis). These loans allowed a thin slice of people at the top of the banks profit from the bankruptcy of largely poor and minority populations who received these loans, Black said.
Now, he warned, some are blaming those same populations–rather than the lenders–for the current financial precariousness around the world.
Black focused on finance, but in general he pushed for a deeper consideration of white collar crime. "White collar crime maims and kills at least as many people as blue collar crime," he said. He offered an example: infant formula in China.
As opposed to the kind of crime Cook spoke about, in this sector "crime pays, and it pays massively," said Black.
4:00 pm–Panel 4: America's Prisons: What Do You Mean "Early Release"?
Panel from left: Leann K. Bertsch, director of the North Dakota Dept. of Corrections and Rehabilitation; Patricia Caruso, former director of Michigan Dept. of Corrections; Matt Cate, secretary of the Calif. Dept. of Corrections and Rehabilitation; Brian Fischer, commissioner of the New York State Dept. of Corrections and Community Supervision. Moderated by Martin Horn (far right), John Jay lecturer and former NYC Correction Commissioner.
Martin Horn started off the panel, saying he hoped the conversation would add nuance to the way the audience thinks and talks about corrections.
Caruso came up next. A native Michigander, she talked about growing up and watching the state become dependent on the prison industry. For many years, she believed in "nail 'em, jail 'em." Then one day, she was walking around the yard of a large prison in the upper peninsula where she was a warden. A prisoner approached her. He wanted a transfer downstate and thought he had a good argument–he was only a parole violator. "You're at the bottom of my list," she told him. You had your chance, and you blew it. Then she asked him what he did to violate his parole.
He went to the grocery store on his way home, he said, to get some pork chops. The trip meant he got home 10 minutes past his curfew. He was violated.
Convinced he was lying, Caruso pulled his file. "Even the pork chop was in there," she remembered. She tells the story a lot, she said, because it changed the way she thought, and how people think. "I have yet to meet a person in any walk of life who thinks they are safer because that guy went back to prison," she said.
Next up, Bertsch painted a picture of the prison system of North Dakota. The state has the nation's smallest prison system, housing just about 1,450, said Bertsch. A few numbers that stood out.
All but 4 percent of those will eventually be released
Almost 40 percent of inmates have diagnosable mental illness
Substance abuse issues are near 80 percent of the population
Few study the tiny system in North Dakota, but contrast provides some perspective. North Dakota has about half the prison population of its southern sister state. South Dakota has longer sentences, and the state casts a broader net as to who comes into the system. This despite the fact that the crime rate is virtually the same.
It may be tiny, but its size seems to have allowed North Dakota to make big changes: Reluctant to build new beds, it opted for more community corrections. For the past year and a half, correctional officers in North Dakota have also been trained on in-depth interviewing and communication. This is part of a culture shift from tough on crime to rehabilitation.
And then there's the behemoth: California. Some facts: $10 billion budget. 70 percent recidivism rate. 20,000 living in gyms and broom closets. 200 percent overcrowding.
Last fall California instituted its criminal justice realignment. No parole violator will come through California's prison doors again. They will serve that time in local jails. Thousands who once went on parole will go under community supervision. The prison population has been dropping by 1,000 a week since realignment began in October.
The reductions happen through attrition. It's not one big caravan every week. The realignment will mean $500 million dollars less spent this year, and $1 billion next. Some of this money goes to the counties, who Cate said now have the ability to look carefully at what their individual counties need. Is it perfect? No, Cate said. But "here's the best thing for someone who runs a prison system–there's hope," Cate said. "There's hope in it."
And now New York. "New York has been unique and kind of lucky," Fischer said. The population has decreased. The state has eliminated 7,000 beds, thanks in part to the reform of the Rockefeller drug laws. There's also been an overall drop in crime. Sentencing plays in. And then there is early release.
That's not just opening the doors and letting people wander out, Fischer said. People have to earn it through programs–and research has shown people in programs to better on parole. "It really is beginning to work," Fischer said. "We've released the right people at the right time."
But there are challenges, including the 13 percent of the New York State prison population is in for sex offenses, much of them violent. That said, the recidivism rate for sex offense is quite low, but those who do re-offend attract a lot of attention. What do you do with that?
What, also, do you do with violent offenders inside? What do you do with the 18 percent, or 8,000 offenders, who are mentally ill?
"Make no mistake," Fischer said, "the prison system across the country are the largest and most involved mental health system in the country. Bar none."
What happens when people return to the community? There has been a conspicuous silence there. Tack up one more on that list: the aging prison population. Alzheimer's. Deafness. Mobility. The federal government wants to know what New York is doing about them. New York is still figuring that out.
Martin Horn tossed out questions that dug into the most complicated pieces of imprisonment. It's about risks–who gets released? When? There will, almost always, be individual cases that seem to prove the system too risky. Does that mean it is?
Some other topics:
Asked about race in Calif. prisons, Cate said, "The yard is a segregated place." Racial lines are drawn, and prison gangs remain strong in prisons in the Golden State. They are working on that.
On "segregation," known more widely as solitary confinement, Fischer said 23 hour lockdown isn't the same as sensory depravation, and it's not torture. "Torture went out years ago." Fischer believes it a necessary tool to keeping order inside.
The panel ended with a laugh when Bertsch, discussing prison health care, commented that North Dakota "wasn't under receivership, like some other states." Cate, and California, took it in stride.
Lisa Riordan Seville is the deputy managing editor of The Crime Report. Photographs by Joe Vericker/PhotoBureau/John Jay.